The future on your countertop.
The Poynt Smart Terminal is a future-proof device that accepts magnetic stripe, EMV (also known as chip cards), NFC, Bluetooth and QR code payment technologies. You are ready to accept your customers' favorite payment methods: Apple Pay, chip-and-pin, mobile apps, and whatever else the future brings.
Fully Secure
Purpose-built from the ground up with your and your customers' security and privacy as a priority. The Poynt Smart Terminal meets the highest PCI and EMV requirements, comes with 24/7 fraud and tamper detection, and uses state-of-the-art, end-to-end encryption technologies.

The beginning of a new ecosystem
With great hardware comes great software. PoyntOS gives merchants the flexibility and control to use 3rd party applications to save time, make more money, and deliver capabilities that catapult your business into the future.
We're proud to announce our launch partners. You're in very good company.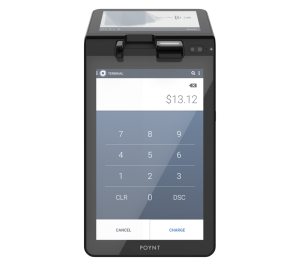 All-in-one, plays well with others
Arrives ready to go with a built-in payment terminal, register, scanner, printer, and more. Or it can work seamlessly with the equipment you already own. Merchants don't even need to switch banks.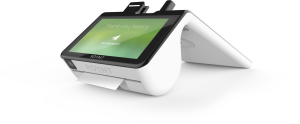 Built with your success in mind
The Poynt terminal represents a breakthrough in how small businesses can grow and flourish. Tools for better merchant intelligence and stronger customer connection, delivered with unique style and cachet, help you stand out in your customers' minds.